Repromed is proud to have one of the leading clinical pregnancy success rates in Australia – being in the top 25% of the nation each year over the past decade.
We are also proud to be one of the few Australian clinics to make public our Live Birth Rates.
Consistently achieving some of the highest Clinical Pregnancy and Live Birth Rates within Australia is a direct result of our commitment to providing the latest and most proven clinical treatments using cutting edge technology for our patients.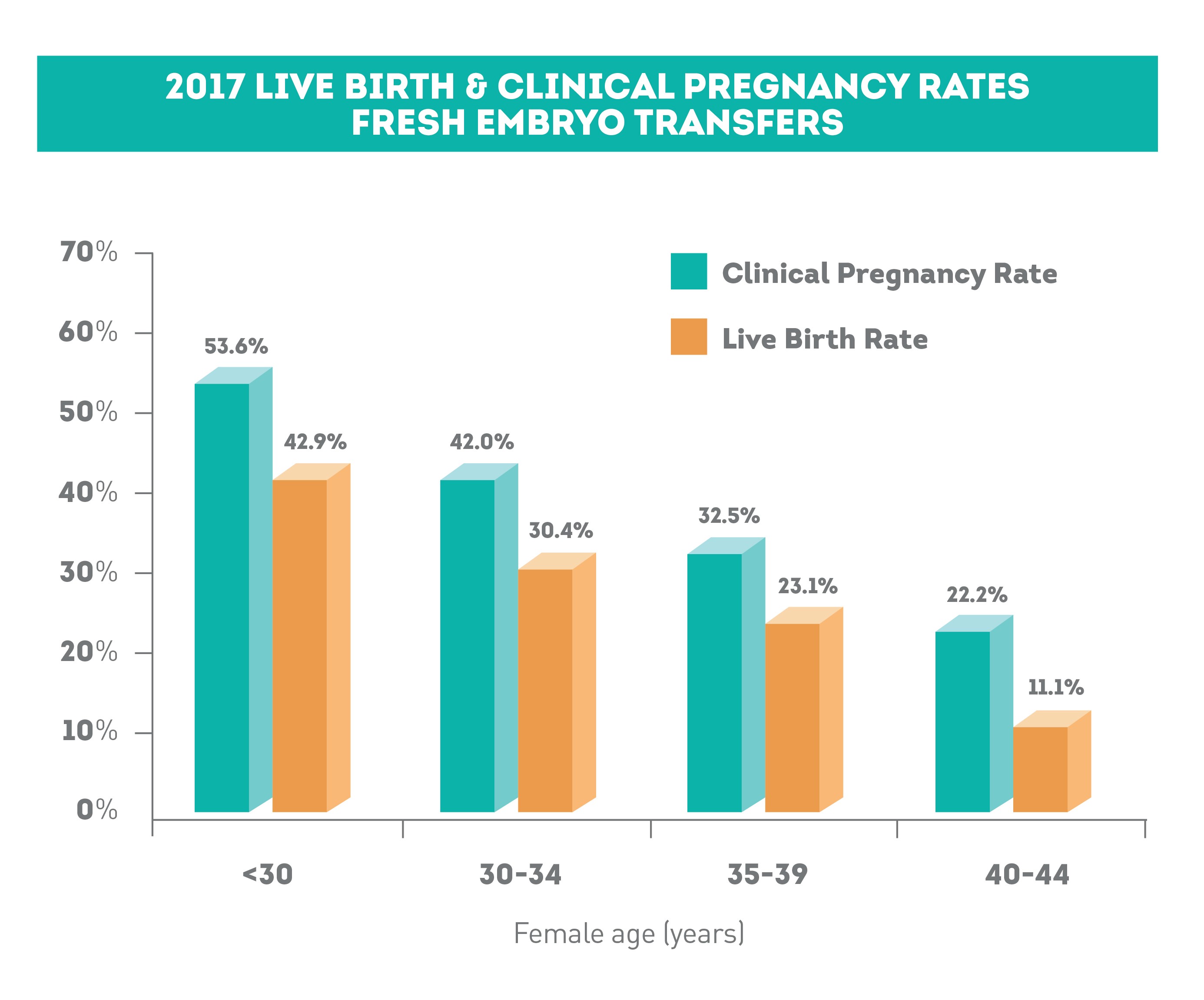 The above data is based on results from January 2017 – June 2017. As this data includes Live Birth Rates, a time lag of at least 9 months will always naturally exist between the current date and the results presented (ie the time from when a child is conceived to when they are born).
Understanding Success Rates
At Repromed we are incredibly proud of our Clinical Pregnancy and Live Birth Rates however it is important to note that when comparing success rates between clinics, there are no industry standards or regulated audit processes which results are measured against. This can result in the manipulation of figures. For example, clinics may artificially inflate their success rates by performing double embryo transfers on good prognosis patients. While this does increase the live birth rate per transfer, it also increases the risk of twin pregnancy which is a much higher risk to both mother and baby. Here at Repromed we pride ourselves on aiming for a single healthy baby. As such we mandate single embryo transfer for all good prognosis patients (age under 40 years, first transfer).
We believe in representing a true snapshot of our success rates, so Preimplantation Genetic Screening (PGS) and Donor recipients who may favourably skew results have been excluded and/or shown separately. Our rates are also updated on a regular basis, ensuring you have accurate and transparent information on hand when deciding which fertility clinic will assist you in achieving your dream of having a baby.
Also note that not every cycle will result in an egg collection, an embryo transfer or embryo to freeze.
Our data is not adjusted for:
Patients with varying lengths of infertility and previous cycle numbers
Female and male BMI (weight)
Ovarian reserve parameters
Male age
Embryo grade and survival rates
Lifestyle factors (e.g. smoking)
Medication regime used
Data does not include patients using our donor egg program or patients having genetic testing.
Note: Our Clinical Pregnancy rates are based on cycles using a fresh blastocyst embryo transfer.
Note: Clinical pregnancy rate is per the Australian and New Zealand Assisted Reproductive Database (ANZARD) definition.
You can read more about success rates and choosing an IVF clinic from this handy guide written by Access.
(Complete the form and one of our staff will be in touch with you soon)