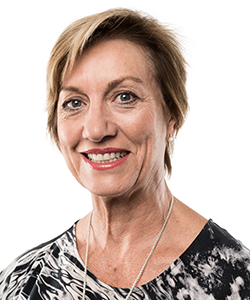 Locations
Full Service Clinic
180 Fullarton Road
Dulwich
South Australia 5065
Patient Consult Only
Ph: +61 08 8333 8111

Dr Weatherill Rooms,
18-20 Sturt Street,
Mt Gambier,
South Australia 5290
Dr Tricia Davies
Fertility Doctor
MBBS, Dip RANZCOG, FPC(Lon)
Dr Tricia Davies started her medical career as a busy general practitioner with special interests in Women's Health (especially gynaecology and menopause), children's health and surgery. To further her interests and experience she spent three years in London and Scotland undertaking further training in Obstetrics and Gynaecology, Anaesthetics, Paediatrics and family planning; working with many leaders in their fields.
Dr Davies has been with Repromed since 1991 and has over twenty five years' experience in Reproductive Medicine.
Tricia is part of Repromed's experienced clinical team and has experience in management of all areas of fertility including Ovulation Induction (OI), Intrauterine Insemination (IUI), In Vitro Fertilisation (IVF), third party reproduction and recurrent miscarriage. She is also available for fertility assessments for individuals and couples and performs embryo transfers, oocyte retrievals, surgical sperm retrievals, IUIs, endometrial biopsies and pregnancy scans.
Dr Davies continues to love and be inspired by her role at Repromed. She views it as a privilege to be in a position which helps people to either begin their journey towards parenthood or extend their family and her work has assisted in welcoming many babies into the world.
Repromed Fertility Doctors work under the clinical supervision of our Medical Director, Professor Kelton Tremellen.
(Complete the form and one of our staff will be in touch with you soon)