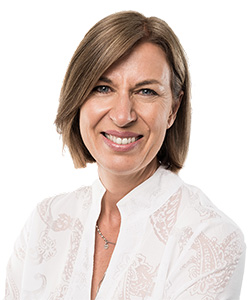 Locations
Full Service Clinic
Patient Consult Only
Ph: +61 08 8333 8111

Dr Weatherill Rooms,
18-20 Sturt Street,
Mt Gambier,
South Australia 5290
Ph: +61 08 8333 8111

The Investigator Clinic,
86 Liverpool St, Pt Lincoln
South Australia 5606
Dr Lisa Bedson
Fertility Doctor
MBBS, FRACGP, DipRANZCOG, MRepM
Dr Lisa Bedson is a graduate of the University of Adelaide. She is a Fellow of the Royal Australian College of General Practitioners and holds a Diploma from the Royal Australian and New Zealand College of Obstetricians and Gynaecologists.
Having completed a Fellowship in Reproductive Health Care at the University of Toronto and the Toronto based Create Fertility Centre, she has a Masters degree in Reproductive Medicine from UNSW.
Lisa is part of Repromed's experienced clinical team and has experience in management of all areas of fertility including Ovulation Induction (OI), Intrauterine Insemination (IUI), In Vitro Fertilisation (IVF), third party reproduction and recurrent miscarriage. She is also available for fertility assessments for individuals and couples and performs embryo transfers, oocyte retrievals, surgical sperm retrievals, and IUIs.
Repromed Fertility Doctors work under the clinical supervision of our Medical Director, Professor Kelton Tremellen.



This doctor has participated in LGBTIQ+ Diversity & Inclusion training and is committed to providing an affirming experience for their patients.
(Complete the form and one of our staff will be in touch with you soon)