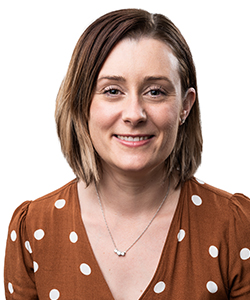 Locations
Full Service Clinic
Patient Consult Only
Adelaide Hills O&G
89 Wellington Road,
Mt Barker,
South Australia 5251
Dr Nicole Edge
Fertility Specialist
MBBS, FRANZCOG, GCertBiostat, MRMed
Dr Nicole Edge is a specialist Obstetrician Gynaecologist with a Masters in Reproductive Medicine. In addition to her work at Repromed she holds a public appointment as a Consultant at The Women's & Children's Hospital.
Born in Adelaide, Dr Edge completed her Medical Degree at the University of Adelaide. She then worked in tertiary and regional hospitals across South Australia and Victoria during her Specialist training. Dr Edge believes it was this diversity that enabled her to achieve the highest mark in both Australia and New Zealand in her Specialist Examinations.
Dr Edge went on to do further training in fertility and reproductive medicine with the Monash IVF Group in Melbourne and Mildura and completed her Masters in Reproductive Medicine with the University of New South Wales. She has also completed postgraduate training in Biostatistics.
She has held positions as a Clinical Lecturer with The University of Adelaide and a Senior Clinical Lecturer/Discipline Head in Obstetrics and Gynaecology with Monash University Mildura Regional School.
Dr Edge genuinely loves getting to know her patients and providing care that encompasses their unique needs and circumstances.
Dr Edge is experienced in all aspects of fertility management and performs clinical procedures including oocyte retrievals, embryo transfers, and IUIs.



This doctor has participated in LGBTIQ+ Diversity & Inclusion training and is committed to providing an affirming experience for their patients.
(Complete the form and one of our staff will be in touch with you soon)