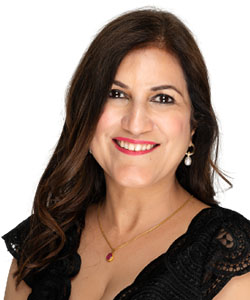 Locations
Full Service Clinic
Dr Neerja Kamal
Fertility Specialist / Obstetrician / Gynaecologist
MBBS(Hons), MD, FRANZCOG, MRepMed
Welcome Dr. Neerja Kamal, Obstetrics and Gynaecology (O&G) specialist, who has recently joined our team. Dr Kamal brings with her a wealth of experience and expertise in the field of fertility medicine, having previously served as the Deputy Medical Director and Clinical Director at Flinders Fertility.
With over a decade of experience in fertility medicine, Dr Kamal is passionate about achieving optimal pregnancy outcomes for her patients.
Dr Kamal's impressive background includes graduating with a gold medal with distinction from India. She further honed her skills by completing her Reproductive Medicine training at Flinders Medical Centre, obtaining her FRANZCOG fellowship in 2010, and earning a distinction in her Masters of Reproductive Medicine qualification in 2019. She is currently completing her subspecialty training in IVF and Reproductive Endocrinology (CREI) qualification.
As a surgical gynaecologist, Neerja operates at both Flinders Private Hospital and Ashford Hospital, treating all aspects of infertility including minimally invasive fertility surgery, male infertility, recurrent miscarriage, recurrent implantation failure, endometriosis, fertility preservation, and PCOS. Dr. Kamal's knowledge and skills are extensive and diverse. She is also a senior lecturer at Flinders University and has a passion for teaching and research. She emphasises the significance of lifestyle in fertility and aims not only to achieve healthy pregnancies but also to consider the long-term health outcomes for children.
Collaborating with her patients, Neerja takes a shared decision-making approach to treatment. Highly regarded for her compassionate and caring approach to patient care, she firmly believes in the individualised treatment approach, acknowledging that every patient's situation is unique. Dr. Kamal takes the time to thoroughly understand each individual circumstance and provide evidence-based recommendations.
Outside her professional life, Dr Kamal enjoys a holistic approach to health, embracing yoga as part of her routine. During her free time, she cherishes spending quality moments with her family, going for bushwalks with her husband, bike rides, and engaging in messy science experiments with her son.
We are thrilled to have Dr. Neerja Kamal as part of our team, and her dedication to empowering patients on their fertility journey makes her a true asset to our medical community.
Dr Kamal is experienced in all aspects of fertility management and performs clinical procedures including oocyte retrieval, embryo transfers, IUIs, and surgical sperm retrieval.



This doctor has participated in LGBTIQ+ Diversity & Inclusion training and is committed to providing an affirming experience for their patients.

(Complete the form and one of our staff will be in touch with you soon)