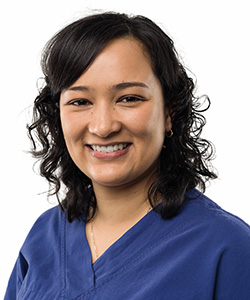 Dr Leanne Pacella-Ince
BHSc (Hons), PhD
Deputy Scientific Director



Adelaide

Leanne joined Repromed in 2007 and is a fully qualified embryologist. She completed her PhD studies under the supervision of both Dr. Michelle Lane and Dr. Deirdre Zander-Fox in 2014 through the University of Adelaide's School of Paediatrics and Reproductive Health. Her Ph.D. focused on mitochondrial proteins in the granulosa and cumulus cells in women undergoing IVF treatment with either reduced ovarian reserve or advanced maternal age and the altered follicular environment seen in these women.

Dr Pacella-Ince is an author on a number of peer reviewed journal articles and she was a finalist for the University of Adelaide's Research and Innovation Prize and was awarded a Dean's Commendation for Doctoral Thesis Excellence for her PhD studies.

In addition to being a senior embryologist Dr Pacella-Ince also co-ordinates the Preimplantation Genetic Screening and Diagnosis laboratory team. She is also responsible for the implementation of new genetic screening technology at Repromed.