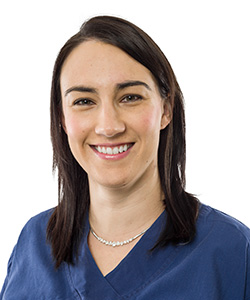 Deirdre Zander-Fox
BSc. (Hons.), PhD., Diploma of Management
Scientific Director (PhD)



Adelaide

Deirdre joined Repromed in 2004 and is a highly trained Clinical Embryologist and Research Scientist. She completed her PhD studies in 2009 through The University of Adelaide's School of Paediatrics and Reproductive Health in which she undertook novel research into the impact of in vitro stress on preimplantation embryo development and how this affects embryo viability and metabolism. She was awarded the Queen Elizabeth Hospital Best Postgraduate Student Award for her work conducted during her PhD studies, and was a finalist in the SRB New Investigator Award in 2008.

She has continued this important work through her research at Repromed and has been instrumental in designing and implementing new laboratory protocols, such as the metabolic embryo assay used by the embryology lab to select embryos for transfer. This work has resulted in significant increases in Repromed's pregnancy rates and was recognised internationally for its importance at the World Congress of Human Reproduction in 2011 for which she was awarded the FSA-BFS exchange award for the best clinical presentation.

Deirdre is an author on a number peer reviewed research journal articles, book chapters and conference abstracts. Her research is highly relevant and is focused on improving laboratory technology that will directly benefit fertility patients. In addition to her role as Scientific Director at Repromed, Deirdre supervises Honours and PhD students undertaking research projects at The University of Adelaide's School of Paediatrics and Reproductive Health as a Visiting Research Fellow and participates in Scientists in Schools through the CSIRO education program.

Her research interests include how the embryo responds to exposure to environmental stress either in vitro (exposure to ammonium of decreased pH) or in vivo (high fat diet). She is particularly interested in how the embryo adapts to these conditions resulting in altered programming and thus altered fetal phenotype and a susceptibility to adult disease.

Her work focuses around the role of mitochondria in programming these outcomes. Her clinical research interests include vitrification, quality control and culture media design.